Presidential Announcement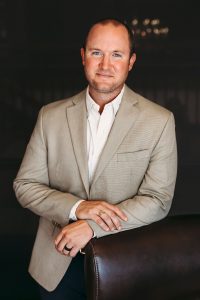 GRAHAM SAVINGS ANNOUNCES NEW PRESIDENT
GRAHAM, TX, October 1 – The Graham Savings Board of Directors is proud to announce Codie Hedge as the bank's President effective October 1, 2020. Hedge succeeds Troy Lambden who has been with Graham Savings for 35 years and has served as the President and CEO for the past 27. Lambden will continue his position as CEO and will remain on the Board of Directors.
The Graham Savings Board approved Hedge's appointment at a meeting in August and the official announcement was made at a Graham Savings' Shareholders meeting on Wednesday, September 23rd.
Graham Savings Board Chairman, Shannon Plowman Potts, on Hedge's appointment, "Codie has a sense of calm and understanding that makes him a great leader. He is levelheaded and has great work ethic," says Potts. "He is community minded and works hard to make Graham an even better place to be."
Hedge joined Graham Savings in 2011 and is a graduate of Breckenridge High School, Texas A&M Commerce, and the IBAT Bank Operations and Lending Institutes. Hedge most recently served as the bank's Vice President and Senior Lending Officer.
As President, Hedge will oversee the management operations of the bank while focusing on his lending portfolio as he continues his position as Senior Lending Officer.
With his Presidency, Hedge is looking forward to expanding to all departments of the bank, "I am excited to have the opportunity to work with more of Graham Savings' talented employees on a day to day basis," says Hedge.
Hedge has strong family values and a good sense of community. He and his wife Kelly have two boys Easton and Huntley. The Hedge family enjoys spending time outdoors, hunting, fishing, and boating on Possum Kingdom and Hubbard Creek Lake. Hedge is active in the Graham Soccer Association, the Young County Appraisal Review Board, and is a Graham Chamber Ambassador.
Hedge on the future of Graham Savings, "I hope to have a strong, family like, staff of employees working together for a common purpose," says Hedge, "and to continue to be the best and most convenient banking location available to our customers."
Graham Savings has an 85-year tradition of serving families and businesses through its locations in Graham, Breckenridge, and Possum Kingdom. More Information about Graham Savings and its services can be found here.